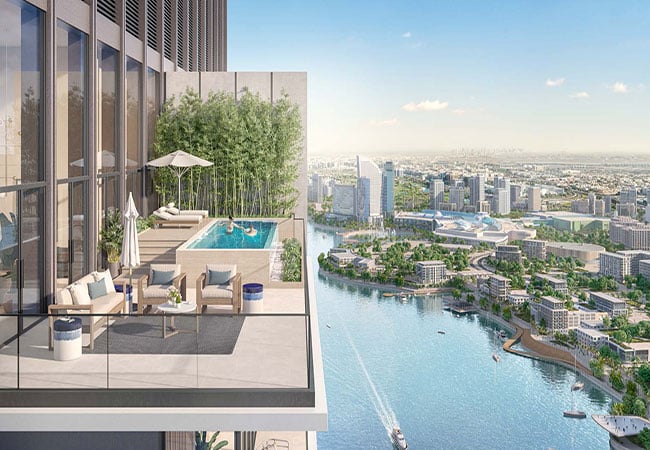 The Community
Creek Island is a waterfront development that mixes upscale residences with enticing leisure and recreational amenities to create a world-class waterfront community. The district's green central park, stunning marina, yacht club, and five-star hotels will all be popular destinations for residents to enjoy the district's breathtaking views and memorable experiences
Why Creek Waters 2?
An iconic apartment tower with a modern architectural style, perfectly complementing Creek Waters 2' surroundings.
Luxurious apartments, townhouses and a state-of-the-art penthouse
A stunning resort-style amenities podium with a wide range of state-of-the-art activities and direct access to a wide range of shopping and leisure experiences at the promenade and beyond
A close distance to Creek Marina, Harbour Promenade and Central Park
High-rise tower offering a wide range of 1, 2, 3
& 4-bedroom apartment layouts, 3-bedroom townhouses and 5-bedroom penthouse, all carefully designed and positioned to maximize outstanding views of the creek.
Materials, fittings, and features meticulously finished to fit the modern lifestyle of the most discerning customers, from the design of the living spaces to the crafting of each room
Creek Waters 2' stylish townhouses fronting the promenade provide a sense of privacy, providing residents with a layer of privacy while celebrating the alfresco outdoor communal spaces
Project Highlights
1, 2, 3 & 4 bedroom apartments
3-bedroom townhouses & 5-bedroom penthouse
Flexible Payment Plan | 10% Down Payment
Estimated completion Q4 2027
Luxury Island lifestyle with spectacular Creek views
Located in Creek Island
Infinity Pool & Sun Deck | Kids' Pool & Play Area
Fully Equipped Gym with Pool View
High-end Apartments, Townhouses & Penthouses
PRICES STARTING FROM
AED 1.7 M ($463,000)
FLEXIBLE PAYMENT PLAN
Get in touch with our specialist Now
Creek Waters 2
exudes a glamorous aura and boasts a unique character amidst the towering skyscrapers of varying architectural designs on Creek Island. This sanctuary of tranquility and elegance rises in the heart of Dubai Creek Harbour, offering unmatched vistas of the Creek and the magnificent Dubai Skyline, as well as convenient access to exceptional dining and curated shopping experiences
Location & Views
Ideally located in Creek Island, an integral part of Dubai Creek Harbour, Creek Waters 2 benefits from a fully integrated transport system so you can get around Dubai with ease 15 min from Burj Khalifa, 10 min from Dubai International Airport, 40 min from Al Maktoum International Airport Beautiful views over Dubai Creek.
In conclusion, the new real estate project "CREEK WATERS 2" we have discussed holds immense potential and exciting opportunities for investors and homeowners alike. As you explore the possibilities, it is essential to have the right guidance and expertise by your side. At LAKAY BUSINESS, we are dedicated to providing exceptional real estate services and ensuring that your journey in the property market is smooth and successful.
Our team of specialists is ready to assist you in navigating the intricacies of the market, offering personalized advice tailored to your unique needs and goals. Whether you are looking to invest in Dubai: real estate, buy, or sell, we have the knowledge and experience to guide you every step of the way.
Don't miss out on this incredible opportunity! Get in touch with our specialists at LAKAY BUSINESS today and let us help you make informed decisions and turn your real estate aspirations into reality. Together, we can unlock the full potential of the market and secure a bright future for your investments.
Contact us now and embark on an exciting real estate journey with LAKAY BUSINESS.